GEZE door comfort with style in the modernised Vienna Westbahnhof
Since the Vienna Westbahnhof station was modernised, the 'Wolkenspange' ('buckle in the sky') has become an identifying feature. Bahnhof City Vienna West also comprises a hotel, a shopping centre and an office building. The different parts of the building are connected via a framework structure made of steel girders (the 'Wolkenspange'). The architectural statement by Viennese architects Neumann & Steiner weighs over 430 tonnes, and spans the large and bright station concourse which has been renovated to its orginal 1950s style.
Nostalgia at the train station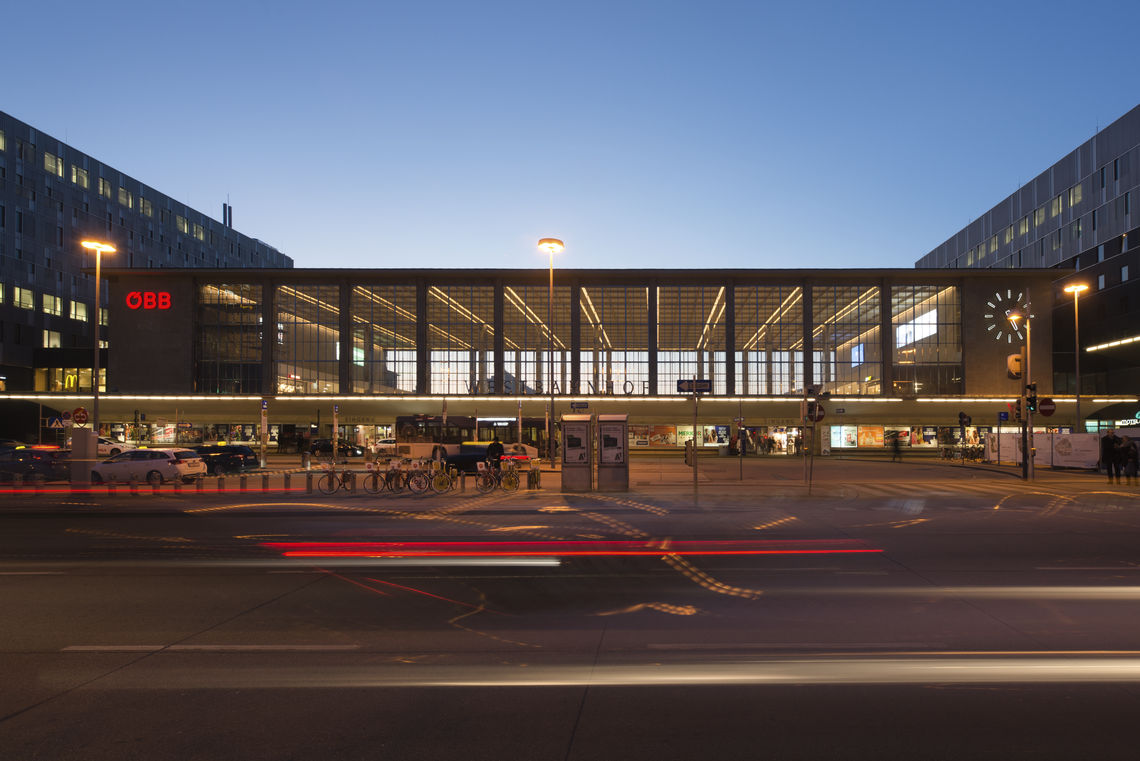 Exterior view of Vienna's Westbahnhof. Photo: Sigrid Rauchdobler for GEZE GmbH © Sigrid Rauchdobler / GEZE GmbH
Pass the shops in the station concourse to get to the platforms today, and it's hard to imagine how much nostalgia is hidden here. When it opened in 1858, the Empress Elisabeth Station – as it was known – was the central transport hub to western, southern, and south-eastern Europe. Where Railjets arrive today was once the stop for the Orient Express that brought a touch of glamour to Vienna. The end of the international tory of the legendary Paris – Istanbul line, which started in 1883 with the Orient Express and ended in 2009, did not stop development of the station. It is now a hub for regional connections, and traffic management and travel comfort have been steadily improved.
Passenger comfort thanks to automatic door comfort from GEZE
Around 30 automatic sliding doors with drives from the Slimdrive range are in use in the modern travel complex. Whether they are façade doors in the wide and high entrances to the station concourse, orto the shopping levels, to the hotel o rto the office block, Slimdrive sliding door systems harmonise the visual reduction. At just seven centimetres high, the drive systems have been discreetly integrated into the façade and interior areas. Generous passage clearance, slim door profiles and Slimdrive SL NT-FR sliding door systems in the emergency exit design ensure barrier-free ease of access, emergency exit protection, brightness and transparency. Where door opening widths are more restricted on an escape route, maximum possible opening widths were achieved by using 4-leaf automatic telescopic doors with Slimdrive SLT -FR drive variants. The 'stacking' of the door leaves is not a problem with this solution.